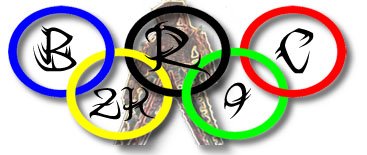 Amid the pomp and circumstance that will be the opening ceremonies of the BRC Olympics, Playa gawkers will also see hand-held signs that say "Burning Man '09".

Black Rock City, an ever expanding community coined a 'Neopaganapokliticalhyppiefreakfest", will leave nothing to chance to entertain it's 50,000 Burners. Playa citizens will be treated to an entire weeks worth of events, competitions and Burning Man debauchery as they host the BRC 2K9 Olympics.
The BRC Olympics is a private for-profit organization, and is not under the auspices of The Burning Man Project or associated with any other government agency.
What Started in Greece...
Olympia, in southern Greece was the site of the original Olympic games. It was one of the most important religious centers of the ancient Greek world.

Olympia hosted the first Olympic games in the year 776 BC. Every four years athletes from all over Greece compete in athletic events. Some of the most famous individuals of the ancient world traveled miles to see these events.

The atmosphere has been euphoric in the halls of the Burning Man offices as the announcement was made by the BRIOC. Many of The Project's Senior Staff have already committed to a First Camp Team that is sure to be medal contenders in the many events throughout the week.
Comes to Black Rock City...